Frank L Ashley High School
Class Of 1957
Welcome to the Frank L Ashley High Class Of 1957 website.
May 6, our class held it's 60th Anniversary Renunion. A proclamation was proposed and passed by the Mayor, John Bridgeman, and was to be read at the reunion celebration at Rankin Lake Park by Porter McAteer, former Mayor of Gastonia and current member of the City Council. However, due to the inclement weather and a strong wind, the documents were scattered. Our apoligies both to Porter and to the current mayor. We thank Mayor Bridgeman - and our classmate, Porter McAteer, for this honor.
The Proclamation can now be seen on the page titled "60th Reunion - Class of 1957"
The Gazette gave us permission to post this article on our site. Pictures by Bill Ward. The pictures are also reproduced on our page that is titled "Members Gallery." Click on the tab near the top of the left side of this page.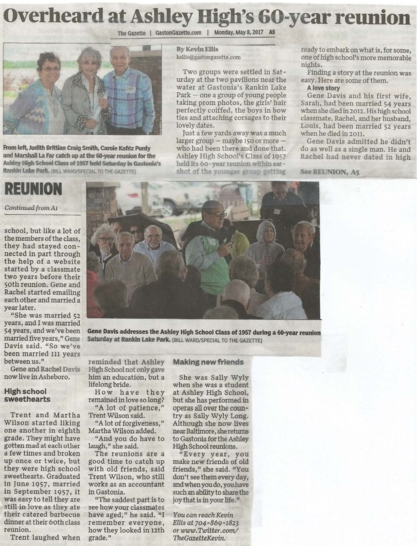 UPCOMING BIRTHDAYS