Frank L Ashley High School
Class Of 1957
In Memory
Maurice James Walsh III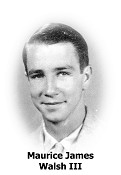 Deceased Classmate: Maurice James Walsh III
Date Deceased: June-30-1989
Age at Death: 50
Cause of Death: Plane Crash
Classmate City: Gastonia
Classmate State: NC
Classmate Country: USA
Survived By: Their daughters. Maueices wife, Paula Dickson Walsh, was killed in the same private plane crash.

Maurice was a well established business man in Gastonia and a pillar of the community.