Frank L Ashley High School
Class Of 1957
In Memory
Charles Costner Jr.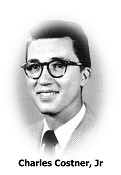 Charles passed away on Thanksgiving Day, November 24, 2004. Following is his obituary:
CHARLES COSTNER JR. GASTONIA -Charles Costner Jr., 65, Belaire Health Care Center, ,died Nov. 25, 2004, at home He was a native of Gaston County, I son of Mildred Drewery Costner of Gastonia and the late Charles Costner ,
Sr.
FUNERAL: 3 p.m.
Sunday, Calvary Baptist Church
BURIAL: Gaston Memorial Park
VISITATION: 6-8:30 tonight, Ward Funeral Service He was a former office manager for Cocker Machine, graduate of Gastonia High School in 1957, attended Carson-Newman and Appalachian State, winner of the AG Myers Academic Scholarship from Textiles Inc. Studying music, he was an accomplished pianist and vocalist, member of Calvary Baptist Church.
SURVIVORS: Mother, Mildred Drewery Costner, Gastonia; loving former wife, Laura McDonald, Gastonia; sister, Gail Frady, Gastonia brother, Melvin D. Costner, Snellville, Ga.; two nieces; four nephews; 13 great nieces and nephews.
PALLBEARERS: Carl Frady, Scott Frady, David Costner, Jonathan Brittain, Harvey McDonald, Charles Robinson
OFFICIATING CLERGY: Rev. Eddie Clements
MEMORIALS: Calvary Baptist Church Building Fund, 3001 S. York Road, Gastonia, N.C. 28052