Frank L Ashley High School
Class Of 1957
In Memory
Blair Adrian Wilson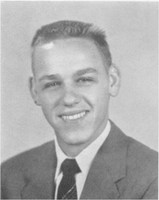 Blair Adrian Wilson
July 2, 2007 - 12:40AM
GASTONIA — Mr. Blair Adrian Wilson, 69, of 2434 Sandlewood Dr. died July 1 at his residence. He was a native of Gaston County; son of the late Ralph and Exena Penley Wilson.
FUNERAL: Tuesday at 11 a.m., Flint Groves Baptist Church.
INTERMENT: Gaston Memorial Park, Veterans Section
VISITATION: 6 to 9 p.m. Monday at the church.
He retired from the City of Gastonia after 30 years of service in several positions, finally retiring as Safety and Insurance Administrator; he was a member of Flint Groves Baptist Church; member of the Gastonia Masonic Lodge 369 where he held the honor of "Life Membership" and serving both as Past Master and Past Secretary; member of the Gaston County Shrine Club, having served as President and three years as Chairman of the "Shrine 100."
SURVIVORS: wife of 47 years, Betty Snipes Wilson; son and daughter-in-law: Scott and Donna Wilson of Gastonia; brothers and sister in laws: Paul and Rosa Wilson, and Truitt and Nadine Wilson of Gastonia; sister: Peggy Lowe of Gastonia; sisters-in-law and husbands: Louise and Charles Buchanan of Gastonia; Freida and Bill Rhinehart of Canton; mother-in-law: Laura Snipes of Gastonia; grandchildren: Ryan Wilson of Gastonia and Kristen Wilson of Gastonia and Boone.
OFFICIATING CLERGY: Revs. Ronnie Bowers and Scott Faw
MEMORIALS: Flint Groves Baptist Church, c/o of the Family Life Center, 2023 Flint Lane, Gastonia, NC 28054. Send condolences to in care of the Wilson family.
ARRANGEMENTS: Ward Funeral Service