Frank L Ashley High School
Class Of 1957
In Memory
Eddie Carroll Smith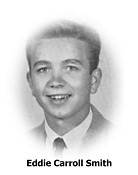 Eddie Carroll Smith
Mr. Smith, 67, of Bent Tree Court, Charlotte, NC, died Friday, February 23, 2007 at Belaire Health Center of Gastonia.
He was a native of Gastonia, and was a son of the late Guy Lee Smith, Sr. and Ruby Fox Smith.
A memorial service will be held at 2:00 p.m., Sunday, February 25, 2007,in the Founders Chapel of McLean Funeral Directors of Gastonia, Reverend John Stanley officiating Family will receive friends from 2:30 p.m. to 2:00 p.m., Sunday, February 25, 2007, prior to the service at the funeral home
Mr. Smith was a graduate of Gastonia High School and attended Greenville Community College. He was a veteran of the US Air Force and worked in sales with Fleet Warehouse. He enjoyed spending time with family on dinner outings and being with "the boys at Lanny's. He was an avid fan of NASCAR and old Westerns.
Survivors are his daughter and son-in-law, Lisa and Matt O'Reilly of Matthews, NC: longtime girlfriend, Melba Ramsey of Bessemer City, NC: brothers and sisters-in-law, Guy L.,Jr. and Molly Smith of Varner Robbins, GA, Doug and Cindy Smith of Tucker, GA, and Tim and Nancy Smith of Gastonia, NC: 1 nephew, 5 nieces, 3 great-nieces, 1 great-nephew.
In addition to his parents, he was preceded in death by his sister, Caroline Smith.
In lieu of flowers, memorials are requested to Cancer Services of Gaston County, 220 E. Franklin Blvd., Gastonia, NC 28052.