Frank L Ashley High School
Class Of 1957
In Memory
Sylvia Dale Parks (Price)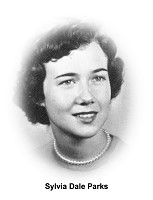 Sylvia Parks Price
FLORENCE A memorial service for Sylvia Parks Price, wife of Julian H. Price, will be at 2:00PM, Thursday, November 29, 2007, at First Presbyterian Church, conducted by Rev. Dr. Barry Jenkins. The family will receive friends at the home, 1110 Claremont Avenue, from 4:00-7:00PM, today and at the church following the service. Memorials may be made to Childrens Ministries of First Presbyterian Church, 700 Park Avenue, Florence, SC 29501. Cain Funeral Home is assisting the family.

Mrs. Price, 68, of Florence, died Monday, November 26, 2007, in her home after a short battle with cancer. She was born March 23, 1939, in Gastonia, NC, to the late Kenneth Hilton and Verdie Hoffman Parks.

Mrs. Price graduated from Frank L. Ashley High School in Gastonia in 1957 and from Coker College in Hartsville, SC in 1960 with a Bachelor of Arts in Elementary Education. During her teaching career she taught at Briggs Elementary, The SC Crippled Childrens Home and The Montessori School of Florence. From 1966 to 2007 she was secretary of Price Enterprises dba Sundek of the Carolinas.

She was a charter member of John Calvin Presbyterian Church. While she was a member there she served as president of the Women of the Church, taught Sunday School, directed Vacation Bible School, was a Kerygma Bible Teacher, and was a circle Bible Moderator. She was most recently a member of First Presbyterian Church where she taught Sunday School, served in the Stephen Ministry program, was Presbyterian Womens Historian from 1999- to 2007, helped develop the Childrens Worship Ministry, and was awarded to Life Membership by the Women of the Church. At her death she was an elected Elder of First Presbyterian.

For many years Mrs. Price was active in the Florence District I Schools volunteering where ever parents were needed. She was also active in the community and with Coker College holding offices on the Board of Visitors and the Board of Trustees. Coker College honored her with the Algernon Sydney Sullivan Award in 1990 for her service to humanity, excellence of character, and fine spiritual qualities.

Surviving, in addition to her husband, are: sons, Julian W. Price of Florence and John (Lisa) L. Price of Tega Cay, SC; daughters, Clara (Douglas) P. Gestwick of Yorktown, VA, and Laura (Kevin) P. Long of Columbia, SC; 13 grandchildren; sister, Sherry (Jake) Robinson of Gastonia, NC; brother, Kenneth (Opal) H. Parks of Gastonia, NC; brother-in-law, Thomas (Flora) B. Price of Greensboro, NC; and sister-in-law, Mrs. Rebecca P. Patte of Charleston, SC.

An online guest register is available on the obituaries page at www.cainfuneralhome.com.