Frank L Ashley High School
Class Of 1957
In Memory
Tina Looper (Baker) VIEW PROFILE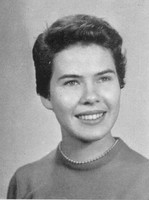 BASS HARBOR - Christina "Tina" Looper Baker, 73, died Jan. 18, 2013, at Mount Desert Island Hospital after complications following a stroke. Tina, a teacher and social activist, was born Aug. 18, 1939, in Gastonia, N.C.

A graduate of Furman University - Bachelor of Arts degree; Duke University - Master of Arts in Teaching; and The Union Institute - doctorate, she was married to William Baker for 51 years and they had four daughters. Tina taught English and women's studies in the University of Maine system for 25 years and received the Presidential Outstanding Teaching Award. She was a member of the Maine House of Representatives for three terms and served on the New England Board of Higher Education. Her books include "In a Generous Spirit," a first-person biography of labor leader Myra Page, and "The Conversation Begins: Mothers and Daughters Talk About Living Feminism."

She is survived by her husband; her four daughters, Christina, Cynthia, Clara and Catherine; 13 grandchildren; and her siblings, Burdine and Nancy. She was predeceased by her brother, William.
A second obit:
BANGOR, Maine — A former Democratic lawmaker from Bangor was remembered Friday as a woman whose passions included education, historic buildings, and issues affecting Maine's Wabanaki people.
Christina "Tina" Baker died Friday morning from complications after a stroke. She was 73 and had lived in Bass Harbor for the past decade.
A former English professor and the author of several books, Baker represented Bangor in the Maine House of Representatives from 1997 through 2002.
On Friday, friends and colleagues remembered Baker as a gifted educator and social activist who cared deeply about others.
"As a legislator, Tina was a passionate and tireless champion of children and education and she helped others understand the link between children's early development and lifelong health and learning outcomes," said Steven Rowe, former House speaker and state attorney general.
"Tina was also a leader in the effort to increase access to — and improve the quality of — Maine's universities and community colleges," he said.
U.S. Sen. Angus King also served with Baker during his time in the Blaine House.
"I was saddened to learn of Tina's passing. She was a valued partner during my time as governor and a tireless champion for educational issues," he said. "Simply put, she was an outstanding public servant who possessed an unwavering commitment to bettering her beloved Bangor and our state of Maine. I extend my deepest condolences to her family."
"Tina was a passionate advocate for the University of Maine and higher education. She adopted the University of Maine at Orono with all of her heart," said Elizabeth "Libby Mitchell, the first woman in the United States to be elected president of both the state House and Senate.
"She was very passionate and persistent. When she decided something was right, she did her homework and dug right in," Mitchell said.
Mitchell, who was a year behind Baker at Furman University in Greenville, S.C., said she spent a lot of time at Baker's home when she was running for House speaker. It was there that she convinced Baker to run for a House seat.
"I'm very proud of that," she said. "The only thing I regret is that I didn't spend more time with her, especially during the last few years."
Baker also was among those who led the charge to save Bangor's historic buildings in the mid-1970s, before the city adopted its historic preservation ordinance, said former state Sen. Mary Cathcart, who used to carpool with Baker when the two were serving together in Augusta.
"She just was a powerhouse of energy and intellect. She was a very persuasive and passionate person," Cathcart said.
Baker also left her mark in Maine's Native American circles. Among other things, she was a co-sponsor of the law that requires Maine's native history and culture be taught in public schools.
"I'm at a loss for words. I don't think anything I could say to you could adequately describe her. She was just a tremendous leader. She was one of the true stars," said Donna Loring, a member of the Penobscot Indian Nation who represented her tribe for several terms in the Maine State Legislature.
Before her death, Baker had been exploring Native American literature and issues, particularly those affecting Maine, as part of an Acadian Senior College group that called itself the Portagers.
"She had a strong sense of social justice and once she learned some of the true history, she took it upon herself to educate other people," Loring said.
John Dieffenbacher-Krall, executive director of the Maine Indian Tribal-State Commission, said Friday that the Maine Wabanaki-State Child Welfare Truth and Reconciliation Commission Communications Subcommittee "was kind of her passion during the last years of her life.
"She was the group's de facto leader," he said.
Baker is survived by William Baker, her husband of 51 years, daughters Christina, Cynthia, Clara and Catherine, and 13 grandchildren, according to her obituary. A funeral service is scheduled for 9:30 a.m. Monday at St. Saviour's Episcopal Church in Bar Harbor.
Click here to see Tina's last Profile entry.