Frank L Ashley High School
Class Of 1957
In Memory
Michael Micky Long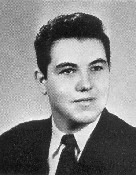 Michael Long
Michael Wilson Long was born Aug. 19, 1939, and passed away Nov. 14, 2011.
He was the son of Woodrow W. Long and Mary Louise Long (née Steagal).
Memorial service will be held 11 a.m. Saturday at Mount Vernon Place UMC.
He is survived by his wife, Sally W. Long; daughter, Mary David Middleton; grandson, Woodrow Middleton and brother, Tony Long.
Published in Gaston Gazette on November 17, 2011