Frank L Ashley High School
Class Of 1957
In Memory
Tip Leon Hamby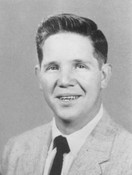 Tip Hamby
ERWIN - Tip L. Hamby, 72, died Feb. 24, 2010, at his residence, after a recent illness.
He was born Sept. 22, 1937, in Walhalla, S.C., son of the late James Arthur and Elizabeth Murphy Hamby.
A funeral service will be held 2 p.m. Friday at Erwin United Methodist Church.
Burial will be in Erwin Memorial Park.
The family will receive friends 6 to 8 p.m. Thursday at Skinner and Smith Funeral Home in Dunn.
Condolences may be made to
www.skinnerandsmith.com
.
Published in Gaston Gazette from February 24 to February 25, 2010
print