Frank L Ashley High School
Class Of 1957
In Memory
Marilyn Detter (Hunnicutt)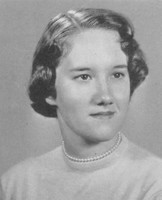 Obituary
LINCOLNTON, Ga. - Marilyn Josephine Detter Hunnicutt, 73, wife of Carl Holden Hunnicutt, of Parks Road, died May 4, 2012, at Wilkes Senior Vil-lage.
Funeral services were held 2 p.m. Monday, May 7, at the First Asembly of God in Lincolnton, Ga., with Pastor Terry Bonds and the Rev. Lanis Lewis of-ficiating.
Burial was in Lincolnton City Cemetery.
The family received at the First Assembly of God from 1 until 2 p.m. prior to the service.
Mrs. Hunnicutt was born in Gaston Co., NC, on November 23, 1938, to Luther and Ruby Stone Detter. She was a member First Assembly of God. Mrs. Hunnicutt was an assistant school
teacher
in the Gaston County School System.
Mrs. Hunnicutt was a Godly mother who raised her two children in church. She was the pianist for many years at Ragan Wesleyan Church in Gasto-nia, NC.
In addition to her husband, Mrs. Hunnicutt is survived by one daughter, Cheryl Hunnicutt of Augusta, GA; one son, Brent Hunnicutt and wife, Jackie of Purlear, NC; two grandchildren, Brittany Leigh Hunnicutt and Kyle Brandon Teague and wife, Brandi.
Flowers will be accepted or memorials may be made to the First Assembly of God, 328 May Street, Lincolnton, GA 30817.
Reins-Sturdivant Funeral Home in North Wilkesboro was in charge of arrangements.
Online condolences may be made at
www.reinssturdivant.com.
Published in Gaston Gazette on May 8, 2012