Frank L Ashley High School
Class Of 1957
In Memory
Dennis Eugene Brackett VIEW PROFILE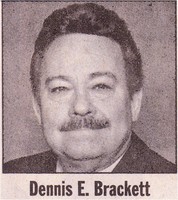 Dennis E. Brackett died of a heart attack, Thursday, February 5, 2009 at Concord Medical Center. Following is the obiturary from The Charlotte Observer:
Dennis E. Brackett
Mr. Brackett passed away on February 5,2009 and a wife of fifty years lost her husband and best friend; a son lost his wonderful father; Tara lost her 'Poppo'; Kirstie lost her Grandpa Dennis; a long time friend since the third grade lost his lunch buddy; and a fluffy little 'Wylie' lost the best dog walker a little guy like him could ever have.
He was preceded in death by his parents, Clyde and Dezaree Brackett, and a son, Stephen Eric Brackett.
Dennis is survived by wife, Linda C. Brackett; son, Chris S. Brackett; brother, Ralph B. Brackett and wife Susan D. Brackett; brother-in-law, Bill P. Ledford and wife Rachel C. Ledford; nieces, Debbie Hubbard, Kim Brackett, Tonya Evans, Rachel Brackett, Janice Phillippi; and nephew Bryan Ledford; close friend, David Jordan and his wife Carol Jordan; and always faithful companion, Wylie.
Dennis was a co-owner of D&L Appliance Parts Company and owner of Brackett Supply Company Inc.
Services will be held at Saint Peter's Episcopal Church, 115 West 7th Street, Charlotte at 3 p.m. on Sunday, February 8th, 2009. Burial will immediately follow the service in the garden of Saint Peter's and the family will receive friends at the church following the burial.
In lieu of flowers the family requests memorials be made in memory of Dennis to the Humane Society of Charlotte, 2700 Toomey Avenue, Charlotte, NC 28203.
Online condolences may be sent to www.carolinafuneral.com. Carolina Funeral Service & Cremation Center is entrusted with the arrangements
Click here to see Dennis Eugene's last Profile entry.