Frank L Ashley High School
Class Of 1957
In Memory
Daniel Dean Boyd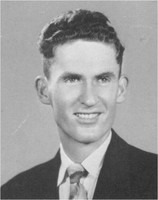 Alma Cope reported the following:
Dean Boyd passed away on Thursday, January 15, at Piedmont Memorial in Rock Hill. Please ask everyone to pray for his family, wife Annette and 1 son and 3 daughters.
The Charlotte Observer website had this information:
ROCK HILL

-- Daniel Dean Boyd, 70, died January 15, 2009. Bratton Funeral Home is assisting the family.
Published in the Charlotte Observer on 1/17/2009
From the Gaston Gazette:
Daniel Dean Boyd
Daniel Dean Boyd, 70, of 4006 Mockingbird Lane, died Thursday, Jan. 15, 2009, at Piedmont Medical Center in Rock Hill, S.C.
The funeral will be 2 p.m. Tuesday Jan. 20, 2009, at Eastview Baptist Church. The Rev. Rick Martin and the Rev. Mike Black and Rev. Eddie Burris will be officiating.
Burial will be at Eastview Baptist Church Cemetery.
A native of Rock Hill, S.C., Dean was a son of the late L. H. and Janie Foy Boyd.
Dean was the owner of Rolling Acres Farm, where he and his son Alvin developed one of the most successful cotton and certified seed farm in upstate South Carolina. He was a member of Eastview Baptist Church where he was a deacon, trustee, usher and a Awana Commander. He was a farmer.
He is survived by his wife Annette Scism Boyd of Rock Hill, S.C.; a son, Alvin Boyd of Rock Hill, S.C.; and three daughters, Tammy B. Huffstetler of Rock Hill, S.C., Wendy B. Carpenter of Chester, S.C., Kellie B Conrad, of Rock Hill, S.C.; two brothers, Leo Boyd, of Tennessee, Erskine Boyd of Gastonia, and two sisters, Kathleen B. Smith of Rock Hill, S.C., and his twin sister Jean B. Love of Gastonia; six grandchildren and seven great-grandchilren.
Visitation will be held at Eastview Baptist Church Family Life Center on Tuesday following the service.
Memorials may be made to Eastview Baptist Church Building Fund or Awana Ministries of Eastview Baptist Church building fund, 1430 Gordon Road, Rock Hill, SC 29730
Bratton Funeral Home in York is serving the Boyd family.